Cover Art and Feature ;
"Ones to Watch" Issue; Author: McKenzie Graham
http://www.artistsnetwork.com/article/wc-ones-to-watch-10/?print=1

The December issue of "Watercolor Artist" magazine is a bonanza for anyone interested in the medium of watercolor.
On page 27, there is a terrific article by McKenzie Graham that highlights ten watercolor artists that the editors have determined as "Ones to Watch".
What is most striking about the piece is the reminder of how very wide the range of expression can be in the amazing medium of watercolor. With relatively few tools of creativity at their disposal - brushes, paper, pigment, water - each of these artists has staked out and developed a clear and distinct voice .
I am very pleased and honored not only to be included in this exclusive group, but also to have had the good fortune to have one of my images featured on the cover of the magazine.
In addition, writer Ann Emmert Abbott has - in the same issue - produced a wonderful article on our accomplished friend, Keiko Tanabe which features many of her beautiful watercolor works and a glimpse into her creative process.
A number of other articles and images are packed between the covers of a "must have" issue of this great magazine.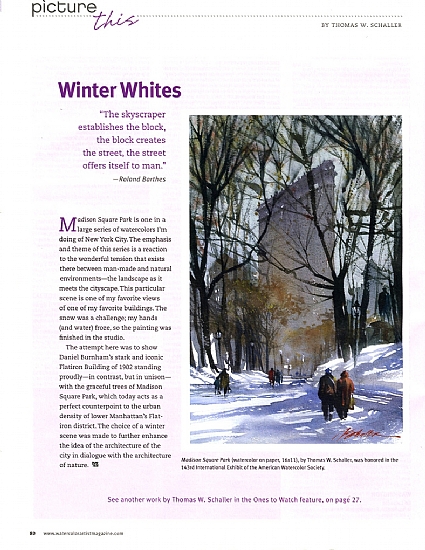 Comment on or Share this Article →